Sola Gratia and the 7 Families Project.
---
How the 7Families project has been a blessing.
---
Through many difficult times in our life, God has been faithful in honouring His promise to provide for us. The fact that we are now living this life is testament to a string of miracles. The 7Families project is yet another example of the ways He has found to fulfil His promise of provision. It is an immense blessing to us.
The 7Families project was an initiative led by Disability Rights UK, and provided support for one year, with the aim of opening up new opportunities. We were visited for a day by a camera crew every couple of months to follow our progress and produce publicity/information videos. We enjoyed being filmed as much as the film crew enjoyed coming aboard our narrowboat!
Cruising around with a film crew was an unexpected twist to our ministry. We were able to share our faith just through being ourselves.
The videos below are the short films that were published about our story. It was interesting for us to see how each film came up - as each visit there were several hours of filming!
As a result of the filming and being involved in the project, we have learnt a lot about the Insurance industry. We have now discovered the benefits of Income Protection. We have been privileged to work fairly closely with some of the providers, which has given us the opportunity to do some presentations about how the general public perceive these policies.
One of the things that we learned through this is that of the many insurances that are on offer, Income Protection is invaluable. But, not only for the financial back up that the policy offers. What we discovered was also of benefit was the support that came with it. We had a central point of contact, who led us to many of the agencies that could offer valuable help - someone to talk to, to find out what assistance was available. It also opened up the opportunity to have Tracey's condition referred to doctors all over the world.
Whilst the State does offer support by way of the Benefits System, there is a limit to what can be provided. You are also at the whim of the Postcode Lottery, whereby any help you get may well be down to how well the local support networks actually work.
Sadly, in the current climate, this is a major area where finance is being squeezed. Care provided by local councils is under funded and this can lead to people falling through the cracks. Illnessand or disability can happen to anyone at any time - as we have found for ourselves. If you are reading this and are of working age, we would seriously advise you to investigate Income Protection.
Take a look at the 7Families website below - and watch the videos. If you want any further information, we would be happy for you to contact us so that we can tell you of our experience.
If you are an insurance provider, we are more than happy to come along and talk to your staff. We have been invited by several companies to do this - as it is only when your staff meet someone that has their own story to tell, that they can really begin to appreciate how what they are selling can benefit people.
Video 1- Meet Tracey Clarke:
---
Video 2 - Setting Off:
---
Video 3 - New Year Catch Up:
---
Video 4 - The Importance of a Support Network:
---
Video 5 - Computer Training:
---
Video 6 - Tracey & Oakley's Sponsored Walk:
---
Video 7 - Arrival of the Prodigy:
---
Video 8 - Oakley, Tim and their Growing Friendship:
---
Video 9 - Tracey, From Bath to Reading:
---
Video 10 - Exciting News
---
Video 11 - A Hectic Few Months:
---
Video 12 - Goodbye & Thankyou:
---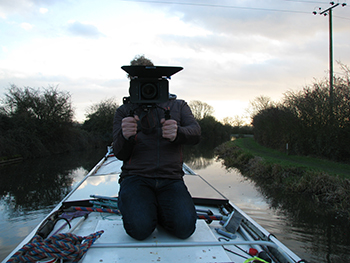 Face to face with the 7Families camera!
---