Boaters' Christian Fellowship.
---
Discover more about the Boaters' Christian Fellowship (BCF).
---
We have been members of the Boaters' Christian Fellowship (BCF) since late 2008, even though we did not have a boat. Boat ownership is not a condition of membership; just an interest in the Inland Waterways. The BCF is not a Ministry in itself, but a Fellowship.
In 2011, Tracey took on the editorship of the magazine, and in 2013 Tim became Publicity Officer. However, following the deterioration in Tracey's eyesight, we changed to doing both jobs as a team effort - Tracey edits the words, and Tim does the layout and design.
Towards the end of 2018, we reviewed our commitments and sadly concluded that the magazine had to go. We prayed about this and advertised the vacancy at the AGM. Our prayers were answered, and a lovely couple approached us almost as we were about to leave. We met with them subsequently, learning that they were familiar with the software we had been using. They have now taken over the magazine and we know it is in good hands. We are happy we have made the right decision.
Tim still does the Boaters' Christian Fellowship website, which he had taken over at the start of 2017. He can now dedicate more time to this.
From the outset, we enjoyed representing the BCF at events around the network, helping to run stalls, lead services and generally "fly the flag". Before moving afloat, our ability to do this was limited, because Worthing was a long way from most of them. Now we are living aboard, we are in a better position to attend more events, but we are still learning how long it takes to travel from one place to another!
Our cruising plan for 2019 has been very much put on hold following the retirement of Oakley, Tracey's Guide Dog. To cut a long story short, he had become what Guide Dogs term a "high mileage dog". He also developed some nervousness on board the boat, which was not good! Sadly, the decision was taken to retire him early. He now lives the Life of Riley with the owners of his "doggy Daddy", Dixon.
Almost immediately, we got the good news of a match with a new dog called Teddy. We were to be trained in Rugby - a town we were well familiar with. We cruised there - battling our way through the ice. It was good to meet up with friends again at Rugby Elim Church - and to see how much the church had grown since we were last there.
Tracey & Teddy qualified, and we cruised back to Birmingham. Unfortunately, it became apparent fairly quickly that all was not well. Teddy was taken back for further training but, six weeks later, we learned that the decision had been taken to withdraw him. So, Tracey is now without a Guide Dog and we are in a bit of limbo waiting for further news. Obviously, without the assistance of her 4-legged eyes, Tracey is somewhat limited and restricted. We are therefore staying around the Birmingham and Black Country area, although we hope to get some cruising done during the latter part of July and August.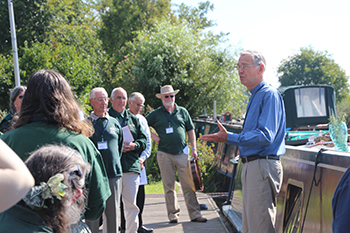 BCF gathering at the annual barbecue at "The Taft".
The Good Ship was blessed in 2014 to
commission her for the waterways.
---