Find out where we are on the Inland Waterways.
We don't actually have a set location. We are of "no fixed abode", otherwise known as Continuous Cruisers. This means our home can be anywhere within the 2,500 miles of the UK's Inland Waterways (Canals and Rivers). The terms of our licence specify that we must prove to be on a continuous journey. We can moor almost anywhere on the towpath side of the canal for up to a maximum of 14 days at a time. In some places there are specific restrictions, eg 24 hours, 48 hours, 7 days. There are some locations that are reserved for fee paying residential/long term moorings, which are out of bounds to the casual cruiser.
With this life-style, our "garden" can vary enormously. Some-times we could be in a heavily built-up city centre area, other times in the middle of nowhere in blissfully peaceful rural England. Either way, we are seldom very far from civilisation, but almost always - even in built-up areas, the canal is much more peaceful than the surrounding streets. Indeed, often, even though we may be right in the middle of a bustling city centre, the canal and immediate surroundings can be so tranquil that it feels like we are far away from the urban busyness.
We are tracked on "Water Explorer" - a useful way of keeping in touch with family and friends whilst cruising. For us, this also has a really useful satellite navigation system, and shows how far to the next lock, junction etc. At the end of the day, we can see how far we have travelled, and how many locks we have done! Our ministry can take us anywhere on the connected Inland Waterways.
You can also follow our progress on our Facebook blog.
Above right shows our current location - click on the picture to access the map.
Link to our location on Water Explorer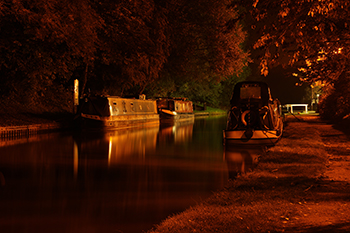 Audlem Mill - just one of the superb gardens
we have enjoyed on our cruising!